San Francisco Chief traveling through Central California
In 1955, Grandpa and Grandma Armstrong decided to host a family reunion. Three of their four children lived close by in Ohio but we lived in Taft, a small town in Central California. We would need to travel across the whole country. Flying was pretty much out of the question with such a large family. At that time there were ten of us, three boys and five girls. Our ages ranged from Diane at fifteen down to Margaret at age of one. (Our youngest brother, Dan, would come along in another year.) This was the first and only time that we took a long trip like this. I was ten years old and this trip still stands out as the highlight of my childhood.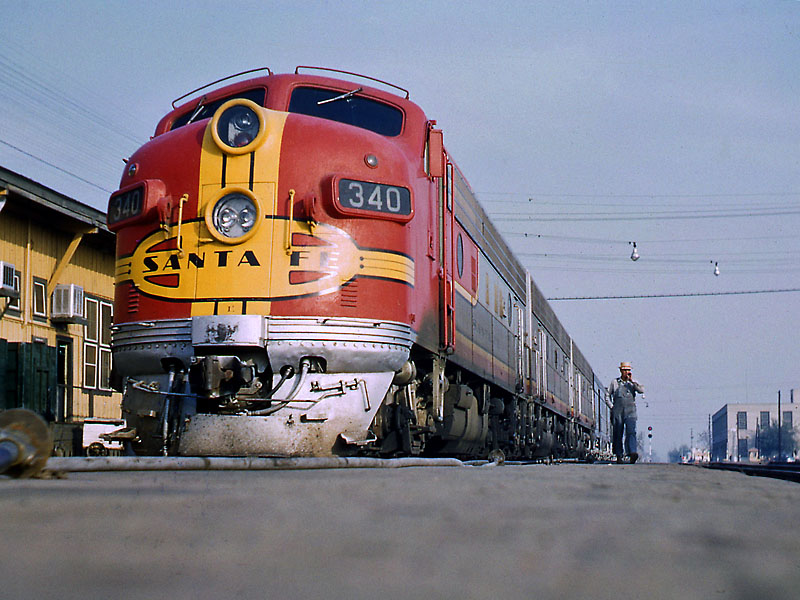 Bakersfield Depot
"Santa Fe Passenger Trains." 2011. 6 Feb. 20141
We drove our '48 Chevy to Bakersfield and caught the San Francisco Chief* at the Bakersfield Depot. As I remember, the train left Bakersfield in the early evening. Our family occupied two rooms in the same car. The girls were in one room and boys in another.
I remember our rooms being somewhat like the ones in these images. They would have been a little different because these images were from the late 1940s, rather than 1955.
I think we settled down for the evening although my memory of settling down may be different than what my parents experienced. I don't know if I would be up for the challenge of taking eight kids across country.
* My memory is that the train was also referred to as the Santa Fe El Capitan, but websites dealing with train history state that the El Capitan left out of Los Angeles (chair cars only) and that the train that went through Bakersfield went by the name of San Francisco Chief. So I don't know how we got El Capitan associated with this train.
1.
"Santa Fe Passenger Trains." 2011. 6 Feb. 2014 <
http://santafe.gmbus.com/
>